In conjuction with Peony Jade's 12th Anniversary, they are introducing a new ala carte menu from June 2016. I was quite looking forward to trying it as I have not been to any of their outlets before.
First up, a sample of appetisers. The Crispy Suckling pig (very nice piece of crackling skin) served with Otak wrapped in Vietnamese Rice Rolls.
My favorite was the Marinated Drunken Clams served in a shot glass for presentation. These cute little cockles remind me of my childhood when grandma would buy a bundle of them (cheap!) and broil them in water before we got our little fingers stained when tearing the shells to suck out the little pieces of meat. Here I could still taste the sea and the blood (did you know that this taste is because of the high level of hemoglobin in the clam tissue?), punctuated with the spiciness of the marinade.
Hands down my favourite dish of the evening was the Double-boiled Consomme with Black Garlic. Boiled 6-8hrs, we were told that it is good for getting rid of wind. I was lost in layers of sea flavors from the scallops, chicken and the complex flavors from the black garlic. The counch comes in nice bite sized pieces to savor with the soup, but really it is the broth that is the star of this dish. Tip: leave the bits of chicken as all the goodness has already been infused into the broth.
Next up,  Stewed Egg Plant with Hand-Peeled Crabmeat served in a hot sizzling claypot. The eggplant is soft without being mushy. There is a generous amount of fresh crab meat in the dish, but the main savory flavor comes from the stir-fried minced pork.
Check out the big chunks of gelatinous oxtail meat in the Braised Oxtail with Red Wine served in a hot claypot.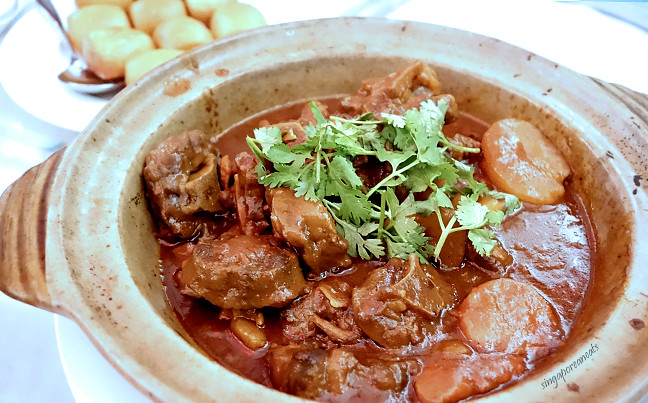 The hearty East meets West sauce had flavours of a rich tomato base with Chinese herbs and the musky tanginess of a BBQ sauce. Accompanied with little fried buns to mop up your platter (just like chilli crab).
For dessert, the favorite around the table was the seseme taro salted egg ball. Inspite of the unassuming look, the savory salty mix with a thin layer of taro crackling crisp seseme seeds was a real winner. The  coconut ice cream was also good, full of coconut flavor but surprisingly light, a very refreshing end to the evening.
Menu Prices
1. Suckling Pig served with Otah in Vietnamese Rice Roll Wrap @ S$268 (the whole roast), serves up to 10 guests.
2. Marinated Drunken Clams @ S$10 (S), S$15 (M) & S$20 (L).
3. Conch Chicken Consommé with Black Garlic @ S$18 per teapot(2 servings)
4. Braised Oxtail with Red Wine @ S$38 (8 servings)
5. Deep-fried Sesame Molten Dumplings Filled With Taro Paste and Salted Egg Yolk served with Coconut Ice-cream @ S$12 for three pieces.
Thank you Peony Jade & 37 Communications for tasting invite!
Peony-Jade Restaurant
The Keppel Club, Bukit Chermin Rd S179020
Tel : +65 – 6276 9138
Web : http://peonyjade.com/
Opening hours
Monday to Friday 11:00am to 2:30pm and 6:00pm to 10:30pm
Saturday & Sunday 10:30am to 2:30pm and 6:00pm to 11:00pm
Note: Peony Jade also operates other branches in town, which you can refer to on their web link above.